Pittsfield Board Approves Site Proposal for Lee Bank's New Location
The Community Development Board on Tuesday reviewed two special permits and a site plan for the build of Lee Bank's new location on the corner of Reed Street and South Street.
The bank's site plan was approved with a recommendation that only the 290-foot portion of Reed Street that fronts the location be converted into two-lane traffic.

The structure, which will consist of a first-floor bank and second-floor residential units, was granted a waiver for loading zone requirements and an exception for a maximum setback of 25 feet from Reed Street.

"Our proposal is to construct a two-story building, that's about a 5,400 square foot floor, the ground floor is a branch bank, there are two drive-thru service windows that are proposed and as you stare at my plan, I'm not crazy, I understand that the driver's on the wrong side, but these are automated tellers so that works," Scalise explained. "The proposal here is to create a second floor, which is consistent with the new downtown district for residential use, which will have three residential apartments."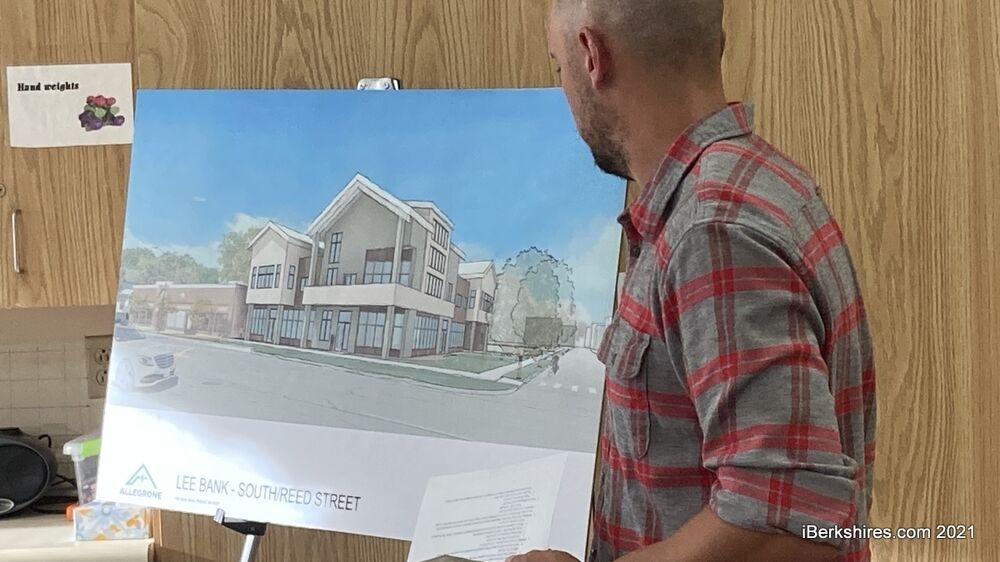 Project team James Scalise of SK Design Group and Anthony Allegrone of Allegrone Construction represented Lee Bank at the meeting. Lee Bank President Charles "Chuck" Leach was also in attendance. [photo source: Brittany Polito, iBerkshire.com]